Avis de recherche Perroquetsecours
STATUT perdu
Date avril 16, 2016
VILLE, PROVINCE (intersections, rues, régions) Montreal, QC (Mile-End, Rue Bernard O. / Waverly)
NOM DE L'OISEAU Cloud
ESPÈCE Perruche
SEXE DE L'OISEAU femelle
IDENTIFICATION aucune
COULEURS ET CARACTÉRISTIQUES*ne pas divulguer le no inscrit sur la puce ou la bague dans cette section* Tête et poitrine blanche, bas bleu ciel, rayures gris/noirs typiques à la tête/aux ailes. Oiseau très timide, facilement épeurée par des bruits forts/innatendus. Cire de couleur brun. Répond aux bruits imitées de perruche, parfois à son nom. Assez socialisée, mais toujours douteuse (attérit sur les têtes, les doigts). Âge: Environ 10 mois.
White head and chest, sky blue bottom, typical grey/black budgie stripes on head/wings. Very timid bird, easily scared by loud/unexpected noises. Nose is brown, now. Answers to imitated budgie sounds, sometimes her name. Mostly tamed, but still apprehensive (will land on head, fingers). About 10 months old.
Pour des raisons de sécurité, les informations personnelles qui suivent seront traitées de manière confidentielle par Perroquetsecours et ne seront PAS publiées dans votre avis de recherche.
Toutefois, si vous désirez que ces données soient publiées dans votre avis de recherche, vous devrez renoncer à leur confidentialité en cochant la case ci-dessous:
Je renonce
VOTRE NOM ET PRÉNOM Sarvenaz Amir-E.
ADRESSE COURRIEL
sarve.ae@gmail.com
À contacter : Perroquetsecours
Téléphone : 450-567-8765
courriel :
avisderecherche@perroquetsecours.com
Lien original : Vianotre formulaire
Vu sur :
Citation :
Photo ou affiche :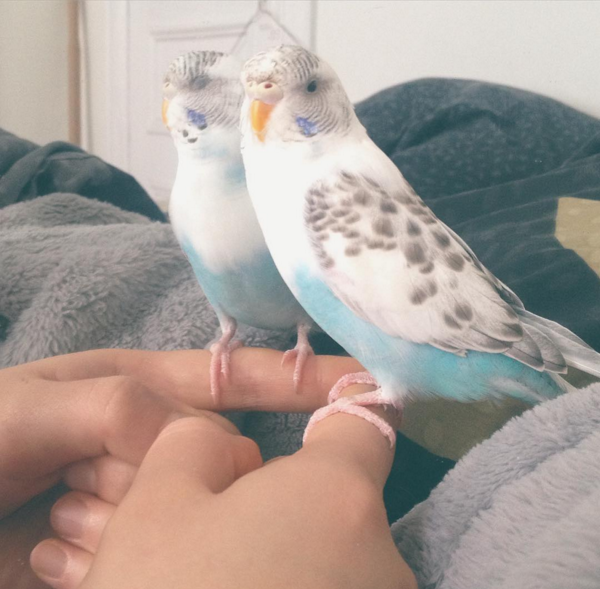 Perroquetsecours acheminera automatiquement et dans la mesure du possible, toutes informations reçues jugées pertinentes et pouvant mener à la réunion de cet oiseau avec son propriétaire. Contactez le lien original ou contactez Perroquetsecours à :
Avisderecherche@perroquetsecours.com
S'il s'agit d'un cas urgent, contactez le :
450-567-8765
Informations confidentielles :
http://perroquetsecours.com/forums/view ... 846#p76846
Pour suivre l'historique de cet oiseau, consultez le lien suivant :
http://perroquetsecours.com/forums/view ... 847#p76847
Le propriétaire qui offre une récompense le fait de sa seule initiative. Par conséquent, Perroquetsecours ne pourra en aucun cas être tenu responsable du versement d'une récompense offerte explicitement ou implicitement par quiconque dans l'une ou l'autre des annonces ou textes publiés sur son site web ou sur tout autres sites partenaires.