Billy's story

Billy is at the root of the wanted notices and the reason this website exists. I delayed telling his story because I still get very emotional when I talk about him, and it took me several attempts to put it down on paper. But his story has to be told. Because if I can help anyone avoid the tragedy of losing a bird through this story, I will have achieved my goal.
Billy is a small Jardine's parrot (red-fronted parrot) who languished in a pet shop, forgotten at the bottom of a cage sitting directly on the ground and devoid of toys. I will not name this pet shop, but rest assured that I'll never set foot in it again for obvious reasons. Billy immediately won my heart, and a strong bond formed between us after I brought him home. My Quaker Paco, who had until then been my exclusive parrot, was very jealous when Billy arrived, and he showed it. But Billy was so irresistible, Paco had no choice but to fall under his spell, just like I had. Little by little, they befriended each other and Billy used to follow Paco wherever he'd go, as they had become best buddies.

In the summer of 2008, we (the parrots, the dog and us) took off in the motorhome to enjoy a well-deserved vacation. For this occasion, I had purchased special cages for the birds, set up a play area in the motorhome, and found a screenhouse to protect the birds from the mosquitoes when they were out in their cages. I thought I had taken every possible safety measure. We had toured New-Brunswick with Paco in the past, so we knew what to expect. This was Billy's first trip, but little did I know it was to be his last and mine too. So here's his story:
My bird has flown away

(July 8, 2008)
The first five days at the Ivy Lea camping in Landsdowne, Ontario, went fine for the whole family. The weather had been perfect since our arrival, neither too hot nor too cool, the birds were breathing in the pure air in their travel cage, well protected in their screenhouse, as shown in this photo:

Things changed dramatically on July 8. It was the first day of a hot spell and it was definitely too hot to keep the birds outdoors. We often set Paco and Billy free inside the motorhome; they were much too busy watching us through the side window to even think of doing mischief inside. We could hear them chat through the screen door. This allowed us to check on them and know what they were up to. But on that hot day, I set the air conditioning at the lowest level to make them comfortable, and since I had to close the main door, I could not watch them anymore.
At some point, I needed to go in to get water for the dog. I cracked the door open just so I could peer in and locate the birds, but I must have startled Billy, who managed to scramble through the 5 cm opening. As I watched him helplessly, he flew high in the sky and was out of my sight in less than 10 seconds. I called friends of ours who were staying at Ivy Lea and asked for their help. Fifteen minutes later, my friend Carole, whom Billy knew, called back to tell me she was having a discussion with him. He was perched on the top of a hundred-year-old tree located no more than 250 meters from our motorhome. I ran there with the travel cage. Billy looked very comfortable, serenading us with cuckoos and whistles, but he would not budge nor climb down until three crows went after him. So he disappeared once again. We paced up and down the camping site over and over to no avail. That night, it got very cold and it started pouring. I didn't sleep a wink all night. I thought I could hear him calling out in the storm and I cried my eyes out.
As soon as the birds started singing at dawn, I went out to look for Billy armed with coffee and peanuts. It was very early so I called Billy softly to avoid waking other campers, and I watched my step while scrutinizing the ground and the canopy. As I got close to a dead tree, I glimpsed a bird perched on top; my heart was beating hard as I called his name… it was Billy! He recognized me at once and started to try and come down but the forest was thick with branches. Flying in circles over me, he cried out in despair, but he could not find his way down, got tired, and left in another direction. I walked for miles looking for him before coming back empty handed to our camping site. When our good friend Jean-Charles called us from Vaudreuil to find out how we were doing, he instantly felt my distress and offered to make and fax me a wanted poster. After going to the reception to get the poster, I sat down for a while to relieve my burning feet. Then and there, Billy came out of the woods behind our motorhome. Paco acknowledged him with welcoming calls. As Billy flew towards the path leading to the reception, I ran as fast as I could and called his name; he turned around one last time before disappearing for good. This last image of him is imprinted to this day in my memory. I could still kick myself for having opened that damned door!
I could not bring myself to break camp; I did not want to move the motorhome as it was Billy's point of reference. We stayed at the camping three more weeks, we put up posters everywhere, went door to door, contacted radio stations and local newspapers, veterinary clinics and pet stores, the humane society, the police and customs services; a radio station even rallied its listeners to participate in a search, but Billy was nowhere to be found. All day long, we looked and searched for him and focused our efforts on anything that could help us find him. Every time the phone rang, my heart skipped a beat and hope would fill me before giving way to disappointment. Since the camping sat on an island in the middle of the Thousand Island area, we would make daily rounds on an inflatable boat. We knew many of the boaters vacationing there, and they posted wanted notices everywhere, even on neighbouring islands that could be reached only by boat. After a while, Billy was undoubtedly the best known parrot in Ontario.
After searching north and south for three weeks without any serious lead, we had to resign ourselves to leave. I felt like I was abandoning Billy to his fate, and a part of me is still there with him. Back home, Paco's first instinct was to fly downstairs in search of Billy, where his cage sat empty. It broke his heart and mine too! I will always keep looking for Billy. I hope that one day a veterinary will spot his microchip and call me to give me the news: We have found your bird, Madam! Am I not allowed to dream and hope?
This picture of him was taken the day before his departure, as I was mixing some lukewarm mash before bedtime.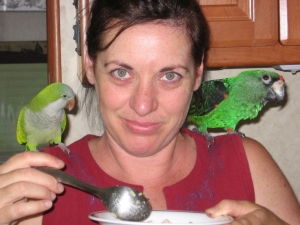 After this heartbreaking event, I lost all interest in the motorhome and sold it. I will never completely get over my loss, and Billy's desperate call will keep echoing in my memories for a long time. Not a single day goes by without me thinking about Billy…I miss him so! During my search, I gathered hundreds of wanted notices into a database that would eventually become Perroquetsecours. You must know that if you ever lose one of your birds, you'll find an ally and an essential tool in Perroquetsecours, as well a team of volunteers who are not only bird enthusiasts but devoted to our mission.
In my view, loving a bird entails keeping his wings fully feathered, at the risk of seeing him fly away some unfortunate day. You must always watch out for your birds and never ever think it happens only to other people. I'm the living proof that it can happen to anyone. When a bird is scared, his instincts kick in and he takes flight, even if it leads him away from you, his most favorite person in the world. You may argue that it's so nice to have a parrot on the shoulder. You may think your bird is used to it, that he loves you and would never fly away, especially since his wing are clipped. You're lured by a false sense of security if you believe that clipped wings will keep him from flying; a gust of wind is enough to take him far away, and coming back can be perilous, if not impossible. I'm convinced that Billy would not have survived three days in this hostile environment if his wings had been clipped! There is no doubt in my mind that the harness and the pet carrier are the safest ways for a bird to enjoy the outdoors.
As you read this, I hope you'll understand our commitment to encourage veterinarians to look for microchips in any animal they examine for the first time; Billy's ISO chip is my only hope of ever being reunited with him.
Someday we'll be together again, Billy!