Please help me find my way home!
Welcome to Perroquetsecours' website!

Perroquetsecours is a Registered Charity Organization whose primary mission is to reunite lost, found or stolen birds with their legitimate owner. However, the services we offer are not limited to this mission and they transcend borders. They are made accessible thanks to a large community of volunteers and partners who care deeply for all species of pet birds; you'll find support and solace with our team members.
Our services


Have you lost or found a pet bird? Publishing wanted notices is the raison d'être and core activity of our organisation. This service is an integral part of our website and forum; it is provided free of charge by our team of volunteers. Notices exclusively devoted to lost, found or stolen parrots are published to help accelerate the searching procedures and entered in a database updated daily and available for consultation. You'll also find a trove of information on our website, so feel free to browse it or register to interact with us.

You wish to adopt a bird? We're always looking for ideal homes for the birds we are mandated to care for or whose owners could not be found despite our best efforts. These birds are waiting for a loving home.
Faced with the prospect of parting with your pet bird, how do you make sure that the prospective adopter will be able to meet all its needs? Turn to Perroquetsecours to find the ideal home for your bird.
Our Help and Relief Services are outstanding. We set them up to help people who need practical assistance to care for their pet birds because of illness or exceptional circumstances.

Perroquetsecours invites you to register your pet bird(s) in its Registry; this way, we'll have a tool that will allow us to identify your bird and contact you quickly, to maximize your chances of finding your bird should you lose it.
Your implication

Help us help you! Your support helps us ensure the well-being of birds under our care and the continuation of our mission. Your participation to our cause can take many different forms.
You can actively support our cause through volunteering! Perroquetsecours operates with the help of volunteers who care deeply about lost, found or stolen parrots. Volunteering can take many different forms. Find out about it!
We welcome other organizations and businesses to become our partners or sponsors. Our partners' contribution is critical to our cause. Partnership can take many different forms. Find out about it!

Your donation allows us to meet the basic needs (cage, feed, toys and veterinary care) of the birds entrusted to us during their stay in temporary foster homes or refuges. Perroquetsecours is a Registered Charity Organization, which means that your donation is completely dedicated to our cause and entitles you to a provincial and federal tax credit.
Join us on our News section, where you'll find articles, informative papers and debates to feed your thoughts. The News section also publishes events and scoops related to the avian world. Your own comments and suggestions are also welcome.
To support our cause directly, you can purchase one of our outstanding promotional items or attend our fund-raising events. All our promotional items are available online or at the events venue.
Follow us on Twitter or Facebook. When you share our wanted notices and like our page, you help us get more visibility.
Your contribution has helped Perroquetsecours soar since its first flight.
Billy
Perroquetsecours' instigator



Thank you for your support!
Upcoming events or promotions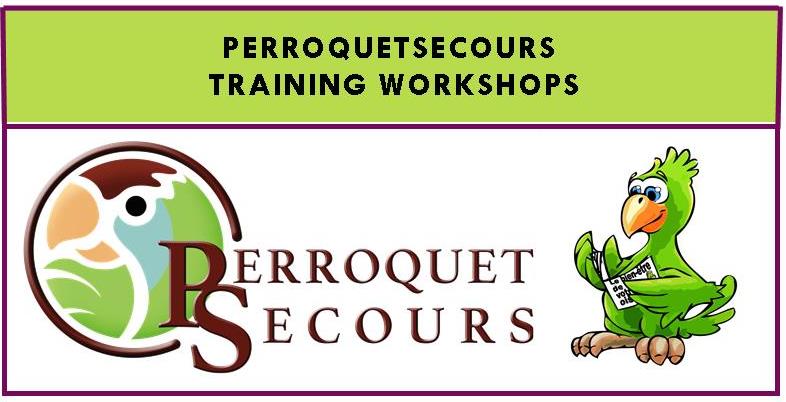 OUR ONLINE BOUTIQUE ORDER HERE

Ottawa parrot club next meeting
For more information, visit their website at: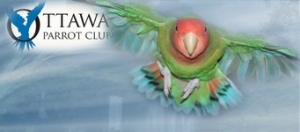 Key partners